The Dallas Cowboys practice facility might have come crashing down on the day of our (supposed to be outside) wedding due to a torrential storm, but we were determined not to let our wedding do the same!
Below are pictures before the wedding where you can see the fun, tears, and laughter that went on despite the gloomy rain.
1. My dad walking me (post hair & makeup) from the car to the room at the Arboretum where I would put on my dress. One of my fav pictures!
2. My bridesmaids knew how to make me smile and calm me down...champagne in styrofoam cups.
3. My cute groom not phased by the rain..just excited!
4. Another shot of my sweet dad walking me into the
Arboretum
. I'm pretty sure he was giving me pep talks about the rain during this whole walk. :)
5. My bridesmaids being resourceful as always.
6. The groomsmen and ushers standing in front of Rosine Hall. I love how you can see the rain coming down - so pretty!
7. The boys on a mission to get this party started...rain or shine!
A few more before pics as the wedding was getting closer...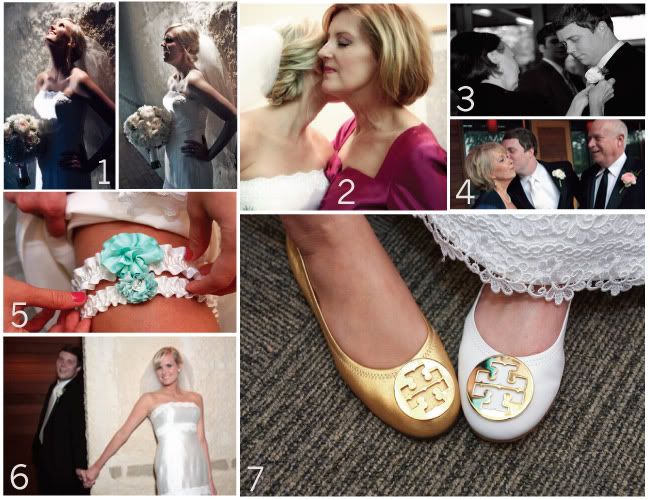 1. One of my fav photos thanks to my fab photographer,
Randy Stewart
.
2. I think I have the most beautiful mom ever.
3. Peter getting all dolled up!
4. Peter and his sweet parents.
5. Love my garters that I bought on Etsy!
6. We took this before the wedding without seeing each other! Tricky...
7. My sis & I wore coordinating TB flats!! Such a comfortable decision! Plus it was the only way I would ever get my mom to buy me expensive shoes. :)
Although we had planned on having our wedding outdoors in the
Jonsson Color Garden
at the Dallas Arboretum, the plan was changed at the last minute due to the storm and our wedding was moved to our reception spot (Rosine Hall at the Arboretum).
A few minutes before the guests began arriving, my dad really wanted me to go see how beautiful they had set up Rosine Hall for the wedding to help ease my nerves and forget about the rain.. Below are a few funny pictures of us running over to Rosine Hall in the rain all the while trying to keep me hidden from Peter!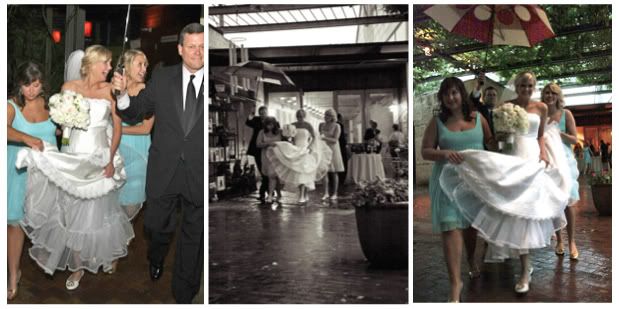 Everyone involved (especially our amazing florist,
Roselady Designs
) really did a great job of turning the dance floor into a beautiful spot for a wedding with an outdoor feel like we (ok mainly me!) had always wanted. But really, it didn't matter...as I kept telling myself that day, the goal was to marry Peter...and that was going to happen regardless of the weather or anything else.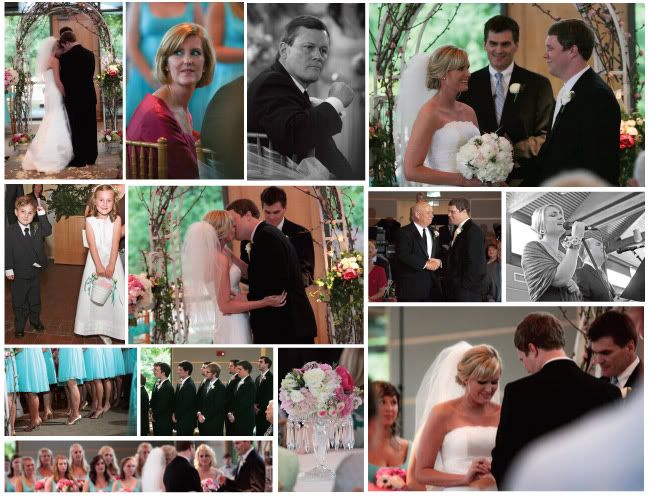 After the wedding, we cleared out to take pictures with the wedding party and all the guests had champagne and appetizers on the porch...naturally by that time the rain had pretty much stopped!
Then it was time for the reception...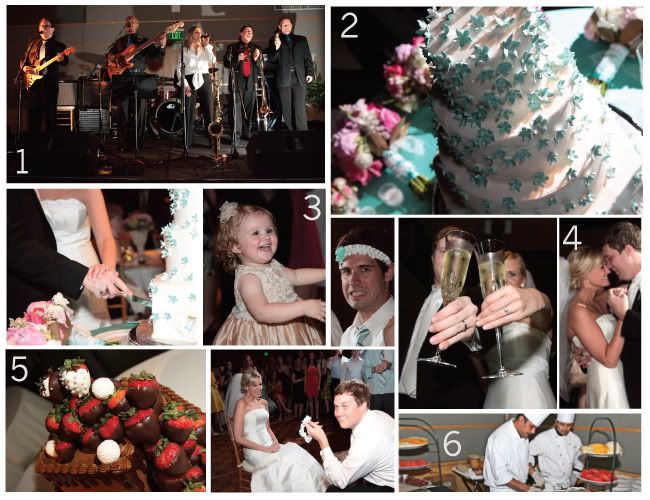 1. Our band - the
Signature Band
. I thought they were amazing and as you'll see below, they clearly got everyone dancing which was my biggest request!
2. My cake...perhaps one of my favorite things (in look and taste) at the wedding (right up there with the Tory Burch flats!). Our cakes were made by
The Cake Guys
who were awesome at working with us to create just what we wanted. The flavor of mine was cuatro leches with buttercream icing.
3. Our precious niece Allie gettin down on the dance floor... so cute!
4. Our first dance... we danced to "L-O-V-E" by Nat King Cole.
5. Peter's cake...chocolate ganache with chocolate covered strawberries and white chocolate golf balls!
6. Our caterer,
Gil's
, had little stations set up around the room. This was the gourmet grilled cheese and gazpacho station. yumm
After the first dances, eating, cake cutting, and all that jazz things got a tad rowdy. I think the monsoon earlier in the night got everyone feeling a little crazy...for example, my sister and her friends in the bottom right picture "pumping up the crowd" on stage with the band. :)
When it was time for all the dancing to come to an end, Peter and I left through a trail of bubbles. We hugged our friends and families goodbye, thanked them for a perfect, wonderful night & hopped into our getaway car.