For my first edition of Crib Crashing I photographed the fabulous Hildebrand home. The Hildebrands are our good, good friends (Joseph was Peters college roommate), and they are first-time homeowners of this sweet crib built in 1951 in the charming Lakewood area of Dallas.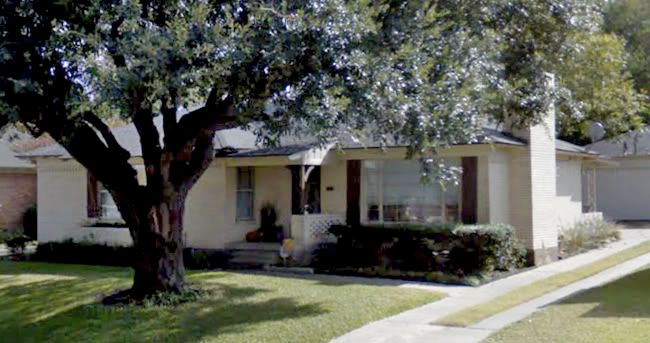 Joseph and Emily are pretty much the best sports ever. My photo session of their house was most definitely a sneak-attack session...what they thought was just a fun night hanging out with friends turned out to be me & my really hip tripod taking very close-up pictures of each room in their house...I did get permission, but I think my tripod was already out, so what could they say? :) As you can see, Emily keeps quite the stylish & clean house, even when she doesn't know its going to be photographed, which is way more than I can say for myself. My house only gets styled and cleaned for a very short list of things...I'm working on it! Kind of..
Now for the photos!
I love the chocolate brown walls in their dining room...& the shelves holding their cute cocktail & wine glasses looks great, especially with the other cute accents Emily added on the shelves. I also love the colorful hanging plates that give a perfect pop of color against the brown walls.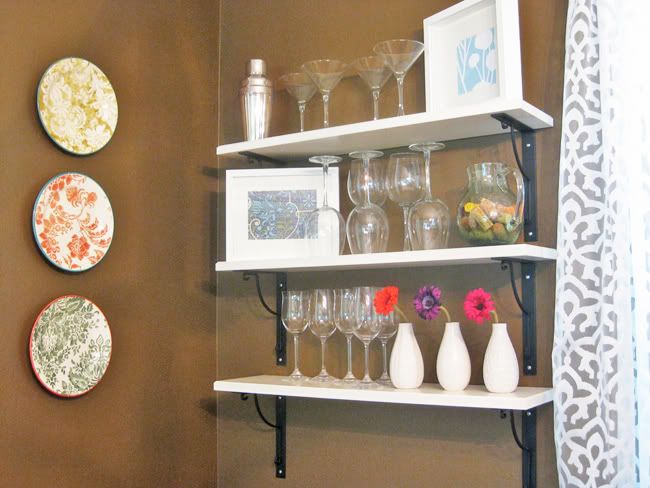 The wine corks in this hurricane look so cute! Such a great idea (that I'm totally gonna steal)! And I'm smitten with their pretty orange dishes & brown woven chargers...loves it.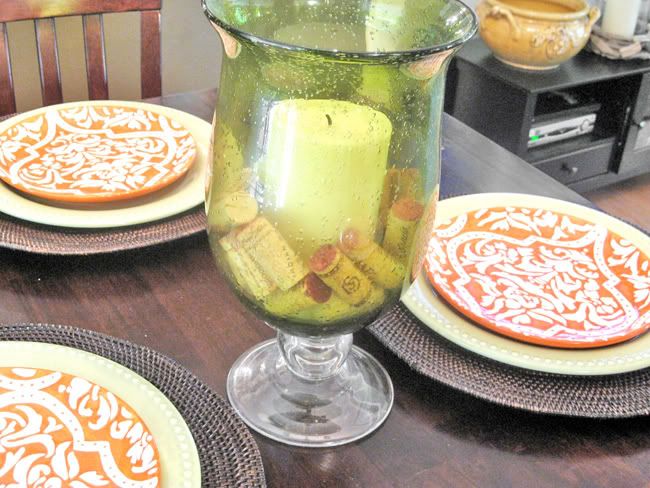 The mirror wall that Emily created is probably my faaav part of their house... really cute idea & she chose such pretty & unique mirrors to hang--all in different shapes and sizes! I am quite jealous & would like Emily to come create a mirror wall in my house. :) Gracias.
Love the usage of chalkboard paint! This hangs on a wall in their kitchen, so not only can they write sweet verses or notes, but also menus for get-togethers or grocery lists.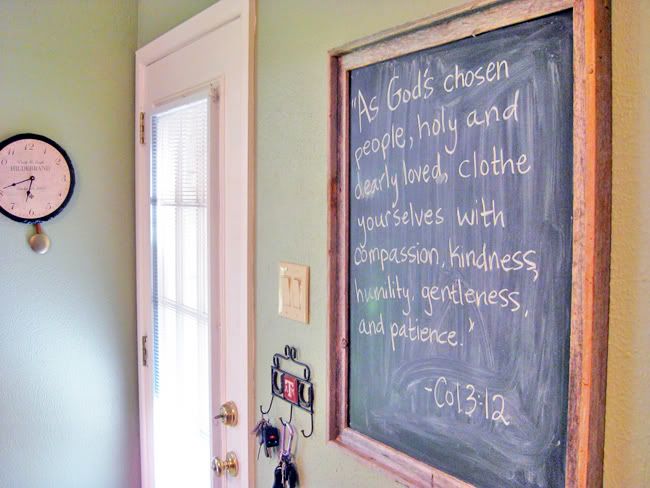 Emily was struggling with what to hang on the wall that you see right when you walk in their front door...she ended up framing some fab scrapbook paper & it looks so good! Perfectoo.
**Be on the lookout for a blog post in the near future dedicated to the awesomeness that is framing paper.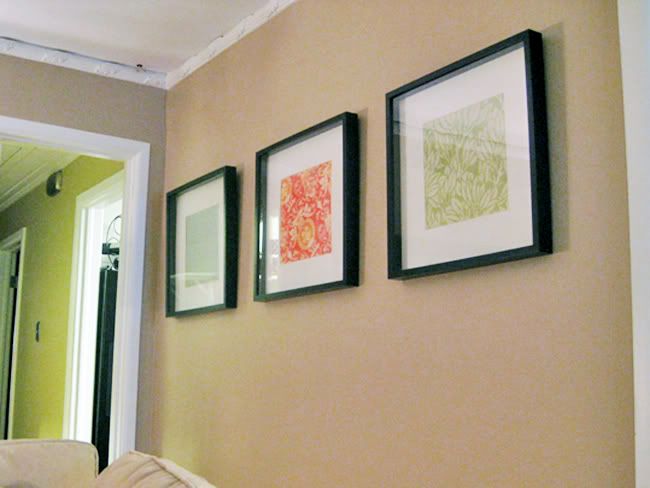 Cute entryway table. Love the chunky mirror & the wicker balls. Are those wicker? I dont know...but I like them.
Fireplace mantle-- im fancying the awesome painting & tall green vases. Stylin fo sho.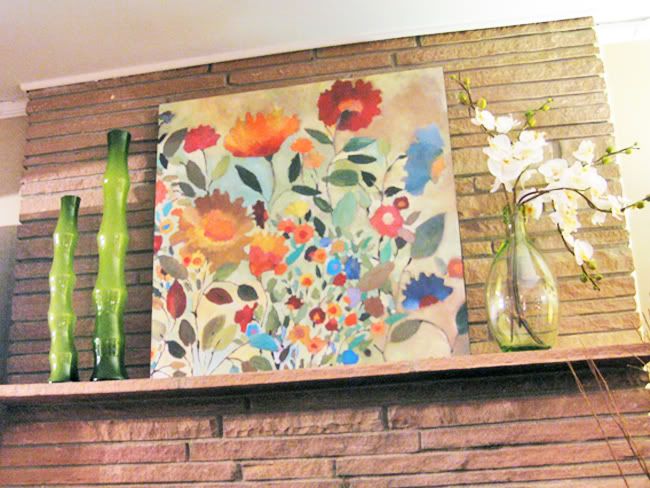 I'm sure Emily wishes I didn't post a picture of their bathroom....but I think its so pretty & classy so I'm doin it.. :) Love the curtain, the lil toilet plant, all of it.. & theres nothin like fancy soap & lotion in a bathroom. Thats right.. NOTHING like it... ok I exagerrate...but I do feel classy using it. And I'm a total sucker for class that's easy to come by.
Thats sort of sad. Anyhoo..
The Hildebrand master bedroom...chic, stylin, uncluttered..all around fab. And I'm proud of how Emily used neutrals in the master bedroom so as not to feminize her husband... I did that too in our master bedroom. Oh wait, I think huge purple flowers are feminine. Dang! Sorry P.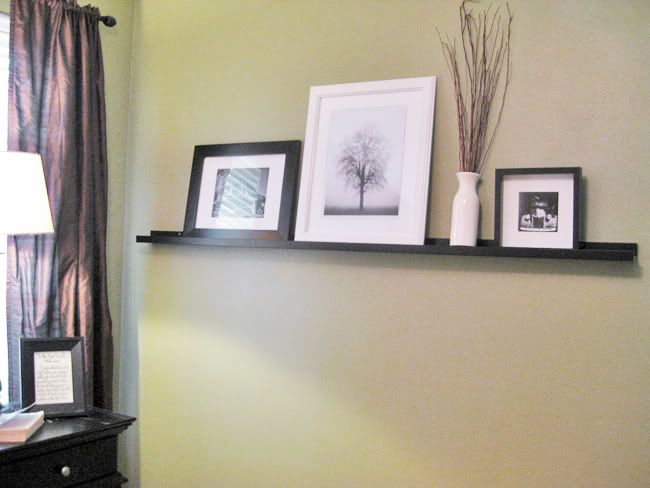 Collage of framed wedding pictures in their hallway...perfect!
Again, kudos to the Hildebrands for having a really cute & organized casa to photograph without notification. They are awesome. Hope you enjoyed my first crib crashing extravaganza - definitely more to come!