With my parents new "empty-nester" status, they've started to revamp their house & its really looking amazing. Sadly I don't have a before picture of their guest room, but imagine dark, dark brown walls, mismatched furniture leftover from my brother's days of living there, and Target "bed-in-a-bag" bedding. Basically it was a room that they were happy to keep the door closed to.
Now thanks to my mom's unique decorating style of what I've named "Antiquey-Texas" and her new found ability of redoing furniture beautifully, the room is a little piece of Texas-heaven with charm and personality.
-The 3 botanical prints above the bed were in a book that belonged to my dad's mom's family...my parents have used many prints over the years from that book as artwork in their house.
-The bed is an Eastlake style bed... it was my mom's grandmother's & my mom slept in this bed when she was little staying at her grandmother's house.
-The bedding is from
JCPenney
.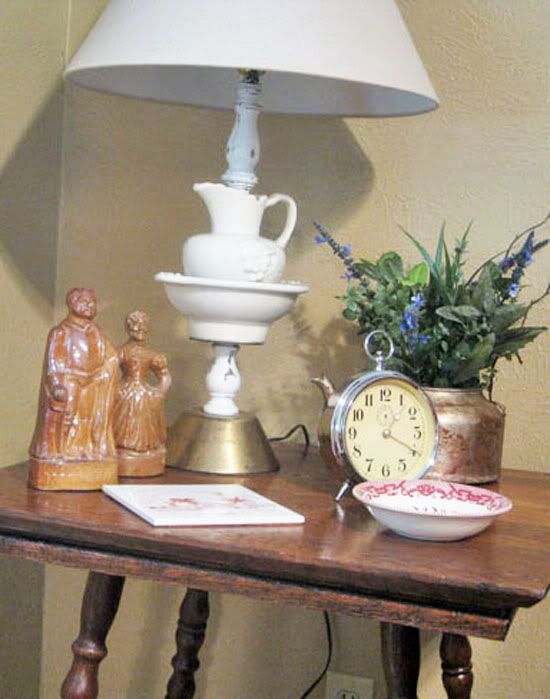 -Bedside table is from
Canton
.
-Pitcher lamp is from
Uptown Country
.
-Clock is from
Pottery Barn
.
-Ceramic bottles from my grandparents (mom's parents) bottle collection.
-Tile (sorry you can hardly see it!) is from Saint Marks Methodist Church where my mom and dad got married. Also my mom's parents were founders of the church.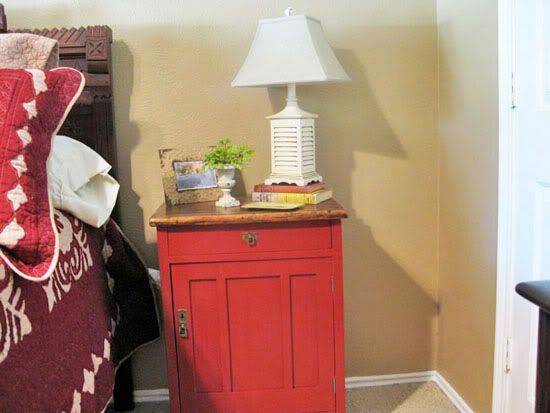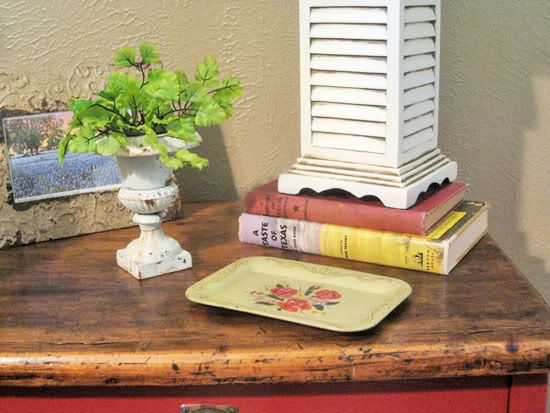 -Bedside table is an old pine chest my parents had...my mom painted it cranberry and stained the top.
-Lamp is from
Sample House
.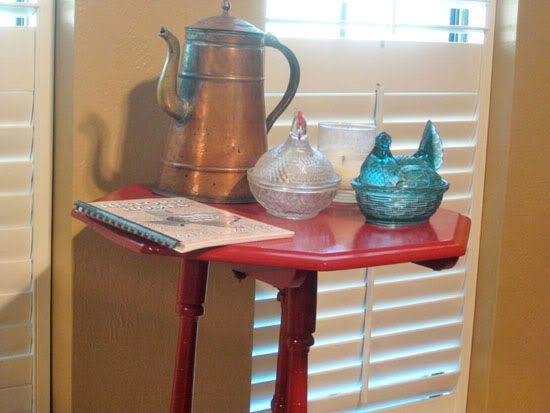 -Table is an antique table that was my aunt Ellen's. It needed refinishing so my mom painted it in a high gloss cranberry paint.
-Copper tea pot was my dad's moms.
- Roosters were my mom's grandmothers (Lou's mom).
-The book is titled "Historic Homes of Gonzales". Our family home, the Braches house is featured on the front and 2 family homes are featured in the book, the Braches house and the JBKennard house.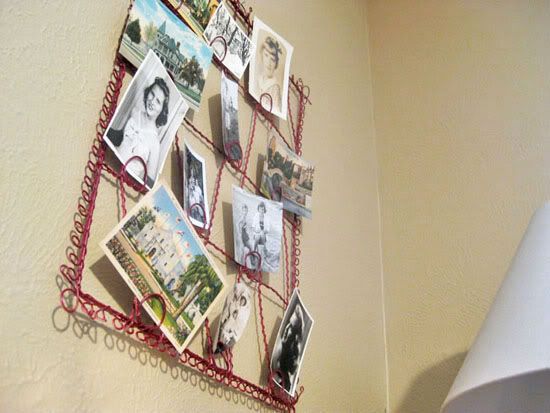 -Wire picture holder is from
Canton
.
-Old postcards were my grandparents and some are from
Curiosities
. There are also old pictures of my grandparents and of the JBKennard house.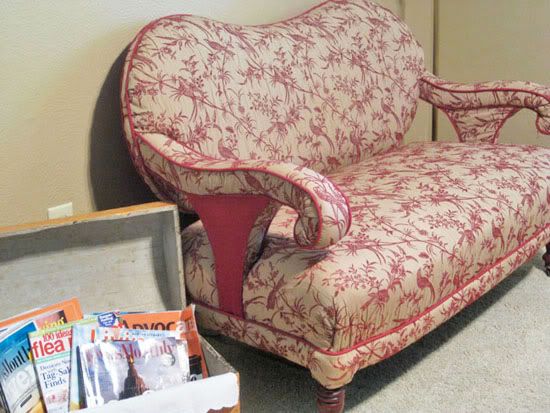 -Loveseat belonged to my grandfather's mom, Mimi (my mom's grandmother). She had it in her living room covered in mint green. It was left to my mom's sister Ellen when Mimi passed away, & Ellen recovered it. The cranberry and cream print of this loveseat was the inspiration for the entire room.
-Magazine box is an antique pine chest that came from Lou & Hart's (mom's parents) antique store. My mom used to keep our doll clothes in it...at the time she had it recovered in Laura Ashley fabric (so early 90's!). To use as a magazine holder she took out the fabric and draped an antique napkin in the box.
-Hutch is from the
Forestwood Antique Mall
.
-Plates: cranberry "Come and Take It" & Betsy Ross with flag plate were on my grandmother Lou's kitchen wall. Others are from antique malls and ebay.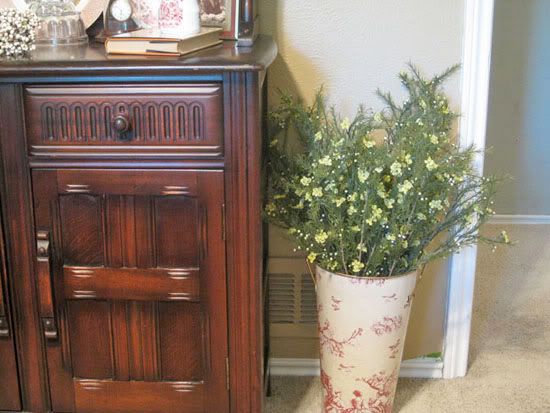 -My mom saw this flower holder at
Sample House
& asked the employees if she could purchase it... they said it was too damaged on the inside to sell to her, so they gave it to her!
-Clock in glass dome was my great grandfather's (on my dad's side) pocket watch.
-Silver spoons were my great-great grandmother's and are engraved with a K for Kennard (mom's maiden name).
Didn't my mom do a great job? Her use of accessories & furniture that have family history is so much more charming and meaningful than a room full of store-bought stuff! Also, like I said.. her new skill of redoing furniture made this room really come together without spending much money... great job anners!